MyFitnessPal // Triggered Rewards Concept
.
Overview
In February 2016 I was asked to be part of a two-day e-commerce brainstorm with Director- and C-level executives across Under Armour E-Commerce and Under Armour Connected Fitness (UACF). The goal of this brainstorm was to figure out creative ways to increase MyFitnessPal revenue by upselling Under Armour products because MyFitnessPal has the largest user base of 100M+ users within Connected Fitness.
At the end of the two-day meeting, the group of 8 people divided up into four groups of two to further refine four prescribed ideas—triggered rewards, flash sales/merchandise widgets, Gear boxes, and web UX improvements. My partner, a MyFitnessPal Product Manager, and I chose to tackle triggered rewards.

The project only lasted for a total of three weeks because it was eventually de-prioritized. As a result, we barely reached the wireframe stage to communicate our concept strategy and how it would affect the in-app user experience.
Business Challenge:
How do we get more MyFitnessPal users to buy more Under Armour gear (shirts, shoes, and digital devices)?
Understanding the Problem
Throughout the two-day brainstorm, there was too much emphasis placed on, "how do we get the user to do X?" and "how could we benefit revenue-wise from having the user do Y?". There was too much, "us, us, us" and not enough consideration of actual users and their experiences using MyFitnessPal.

Realizing this, my partner and I collaborated for the next week on how we could employ a user-centered approach to Triggered Rewards in order to achieve increased revenue goals for the business. Doing so meant focusing more on improving our current user experience; infusing UA product upsells that were more contextually relevant to the user journey; and shifting perspectives to understand that building a better user experience would lead to better engagement, retention, and therefore revenue growth. We needed to better understand our users, their journey, and how their experiences would shape these reward opportunities.
•  As a MyFitnessPal user focused on nutrition tracking, why am I trying to be sold shirts and shoes?
•  As a MyFitnessPal user, why am I being shown so many Under Armour ads?
•  Why is this new pair of Under Armour shoes, shirt, band, etc. relevant to me?  
Hypothesis:
 If we implemented Under Armour triggered reward experiences that were more contextually relevant to the user experience/journey and communicated them in an encouraging way to users, then this would lead to better user success, engagement, retention, brand love for UA, and (as a result) increased revenue.
The MyFitnessPal User Journey
The majority of MyFitnessPal users are on a path toward weight loss. Therefore, their journey might look something like this: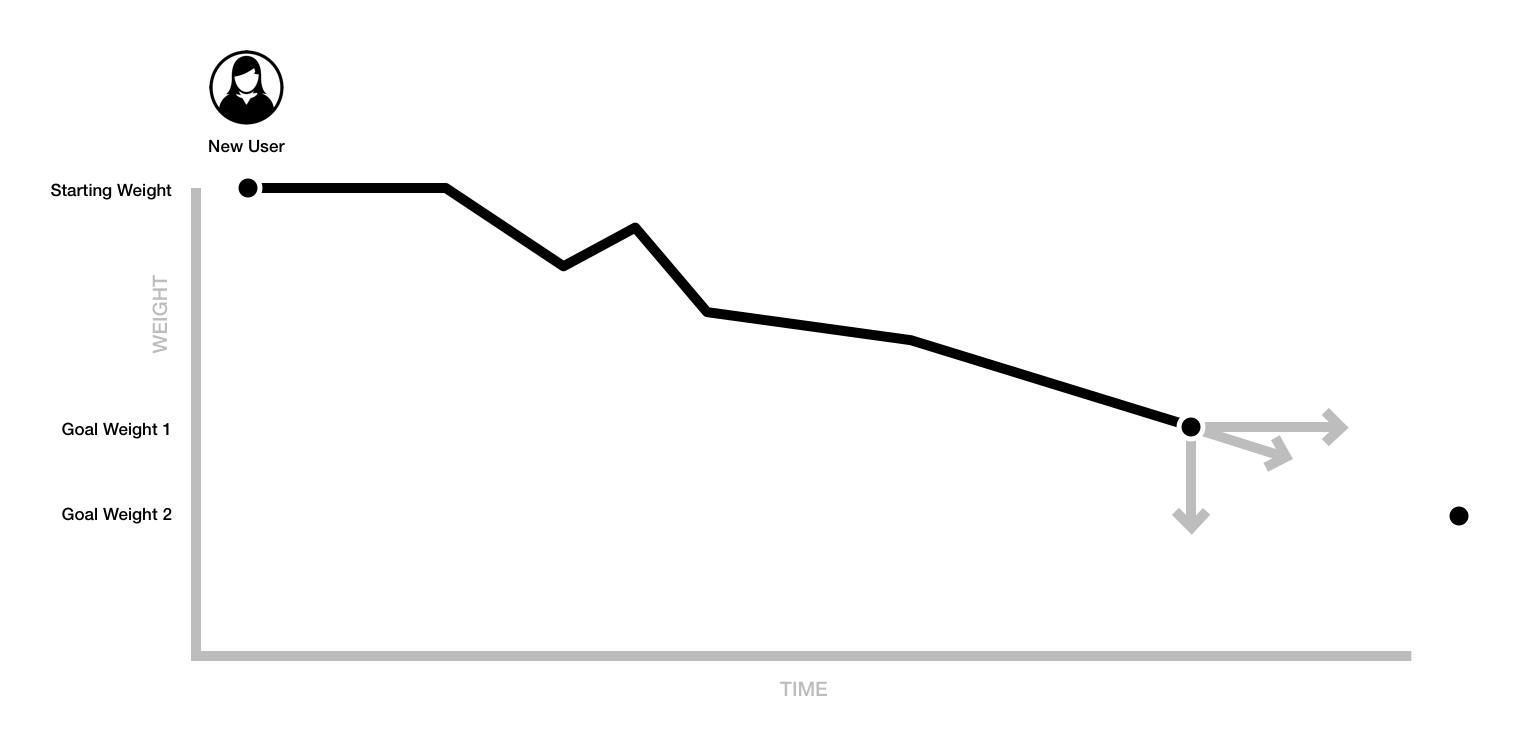 Furthermore, the typical MyFitnessPal user undergoes a continuous cycle before, during, and after using the MyFitnessPal product—they have a specific weight loss goal, they plan out how to achieve that goal, they make progress toward that goal, they celebrate their goal achievement, and then they may decide to create a new goal to repeat the cycle all over again.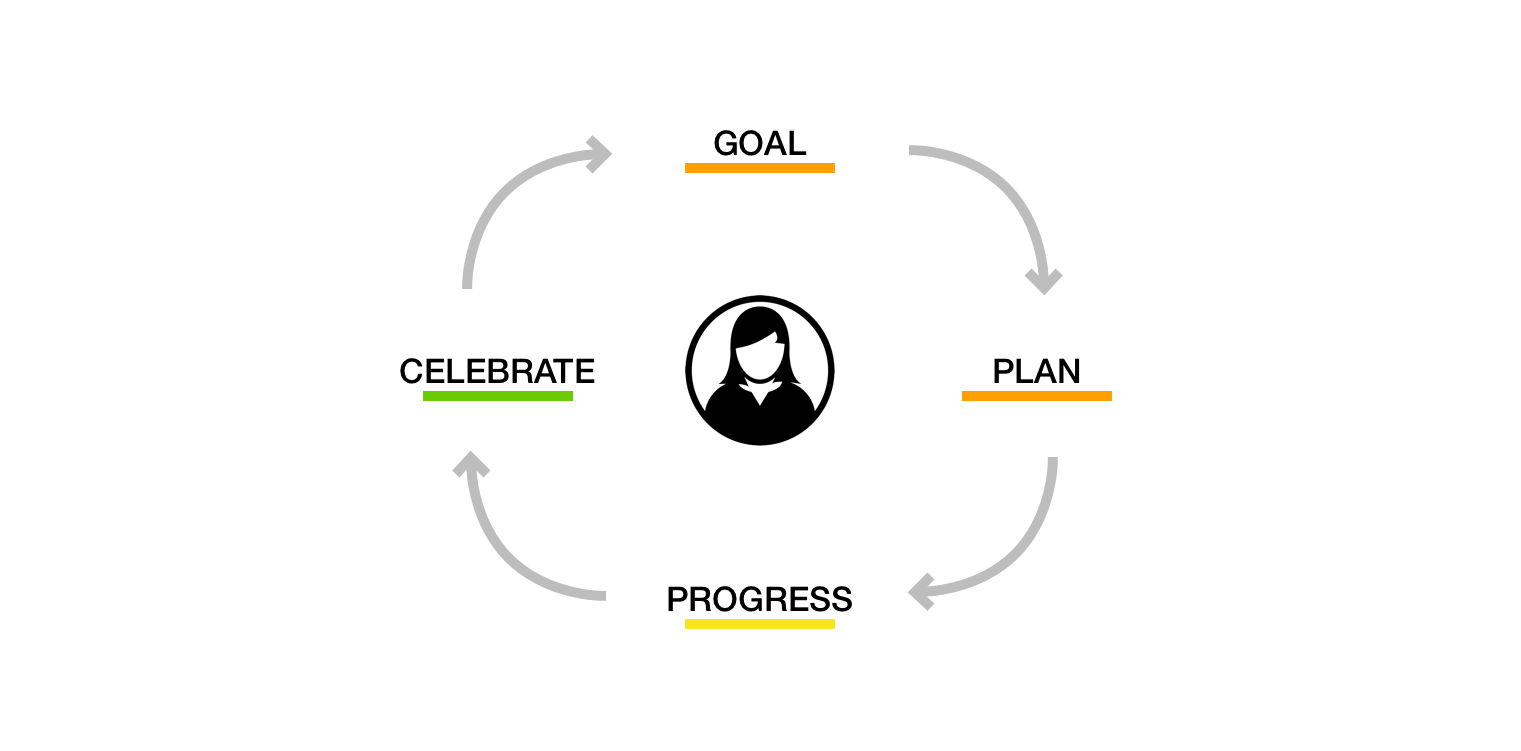 Using these understandings as a starting point to empathize with the in-app and out-of-app experiences of real MFP users, my partner and I identified and mapped key points and instances in which a triggered reward would make most sense to a user.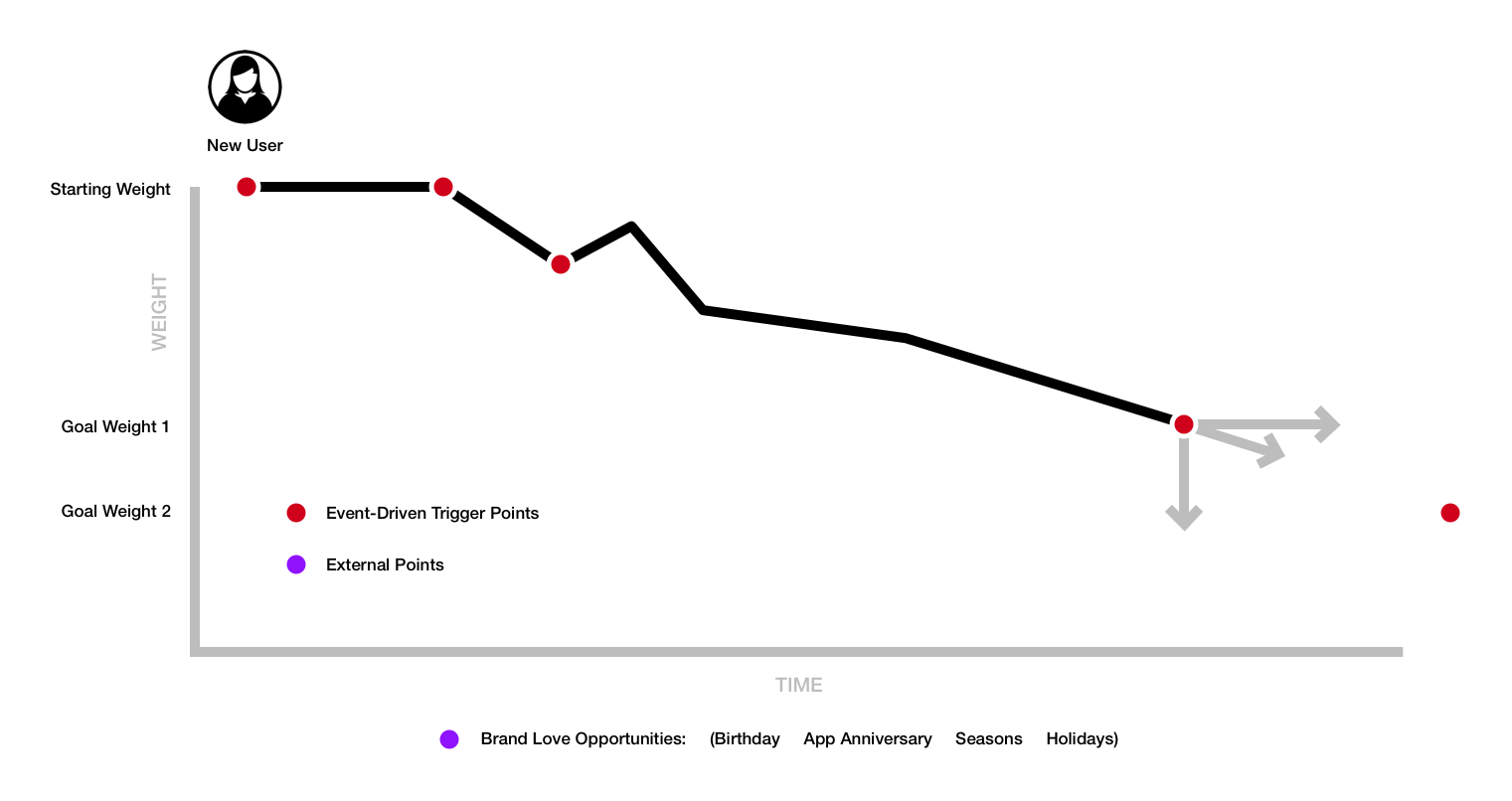 Additionally, depending on which stage of the journey the user was in, the reward value would correlate to the trigger—milestone achievements would have a higher reward value while smaller achievements (e.g., consecutive logging streaks) would have a lesser value. This further tied the out-of-app experience to the in-app product experience by triggering rewards that were more contextually relevant and personalized to the user.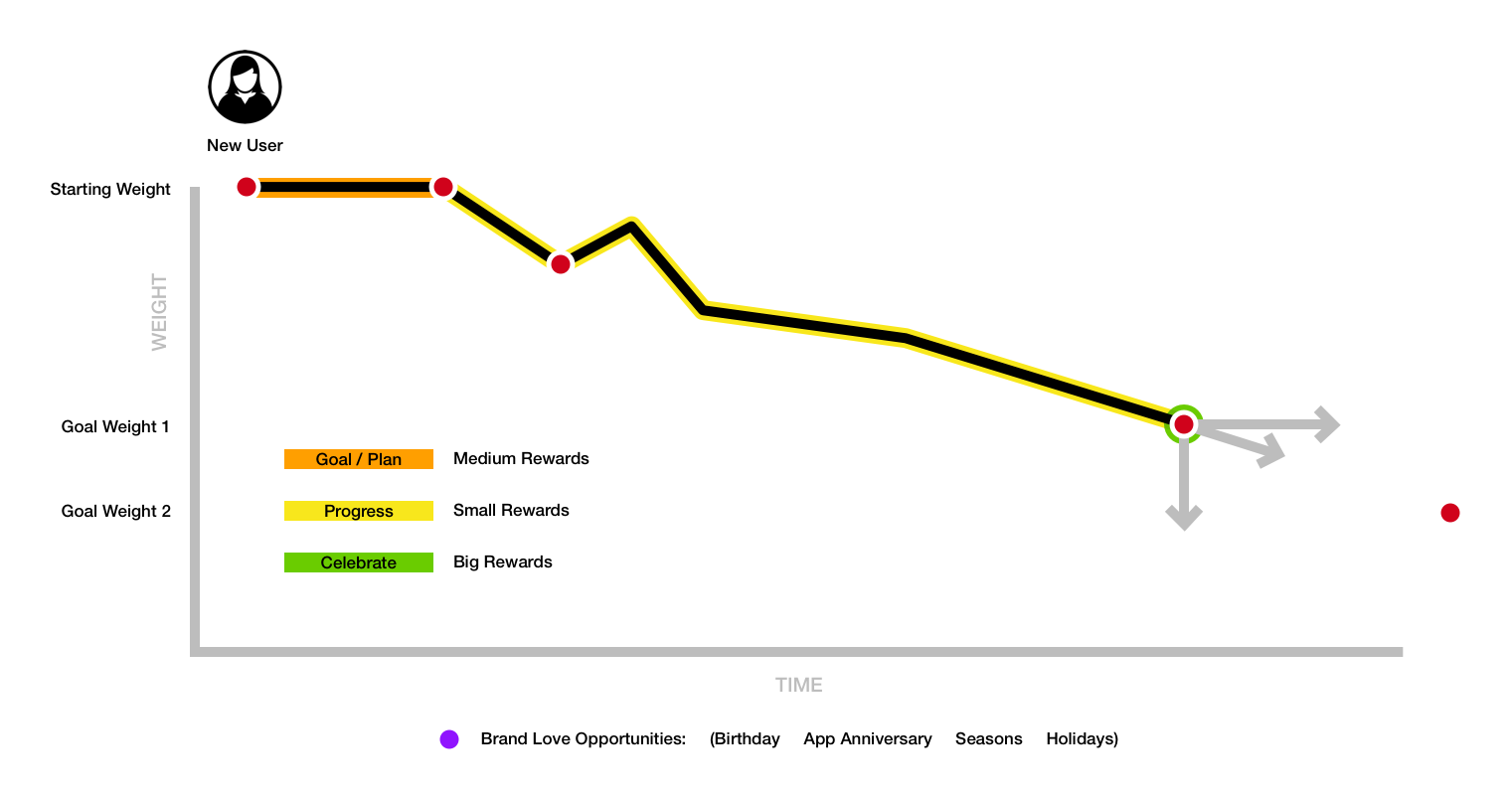 Wireframes
To communicate our concept and the user experiences behind these triggered reward points, I created basic wireframes using existing design patterns: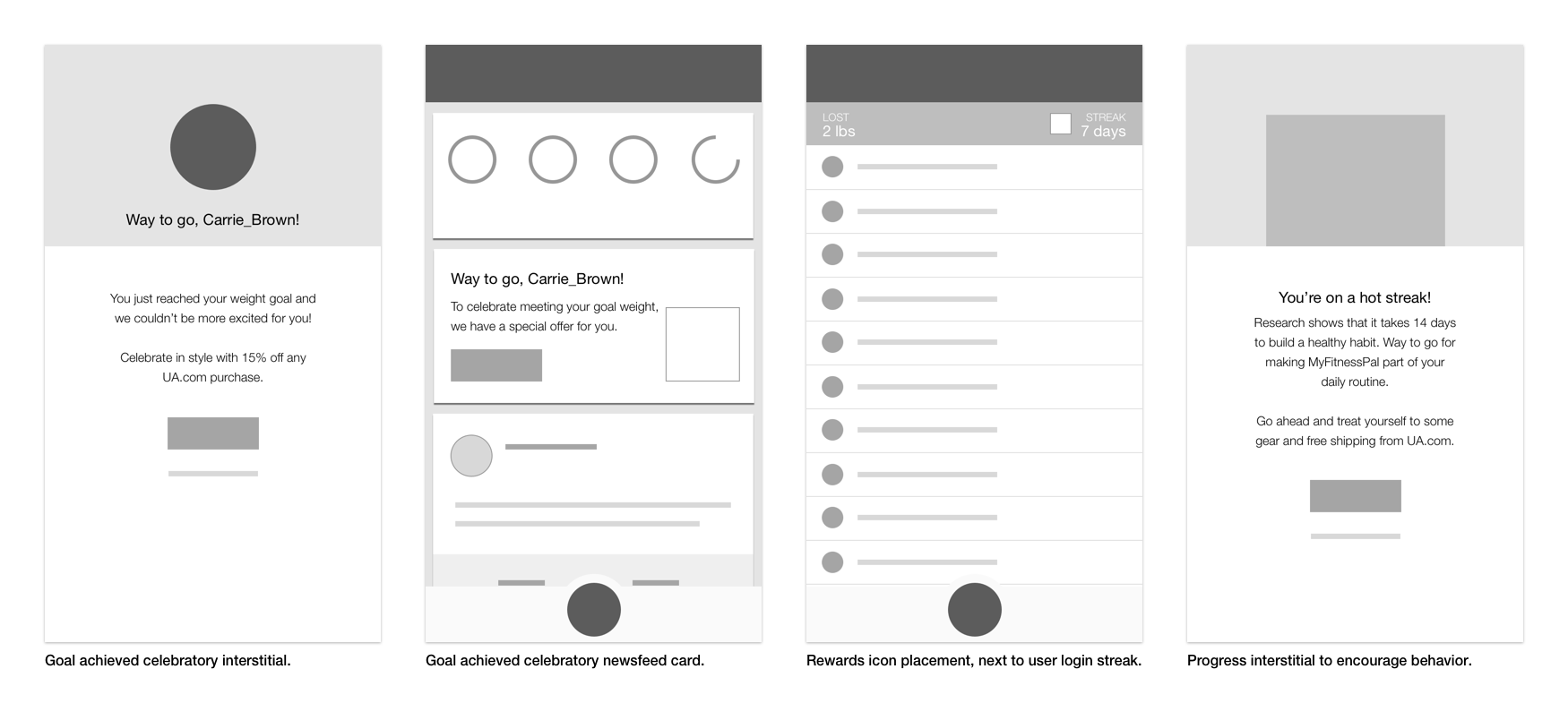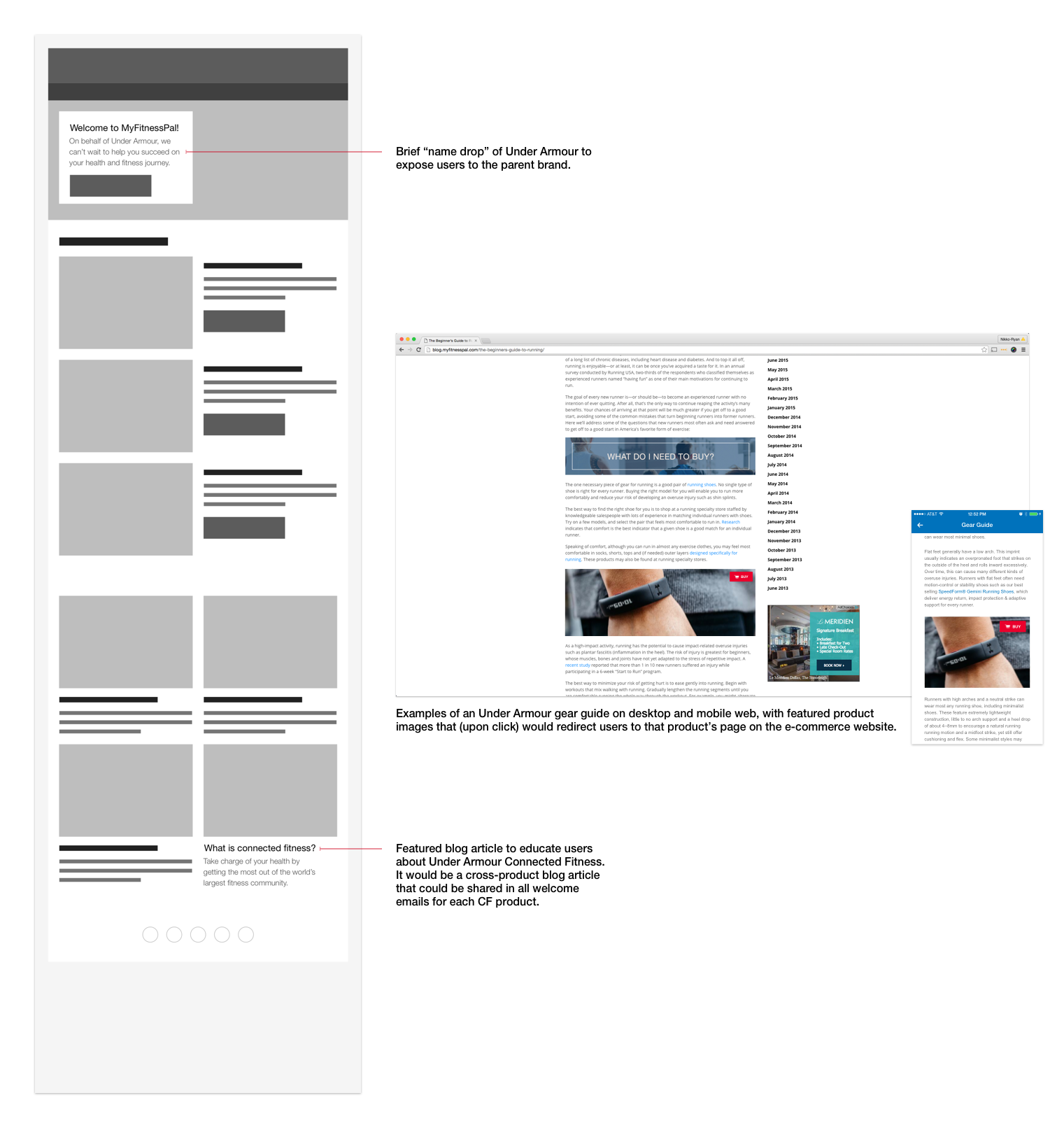 Lastly, in attempt to further educate users that MyFitnessPal was now a product of Under Armour and to help build brand love for UA, I thought a great, simple opportunity would be to create triggered rewards around time-based, contextual, and/or cumulative experiences to introduce elements of surprise and delight to users.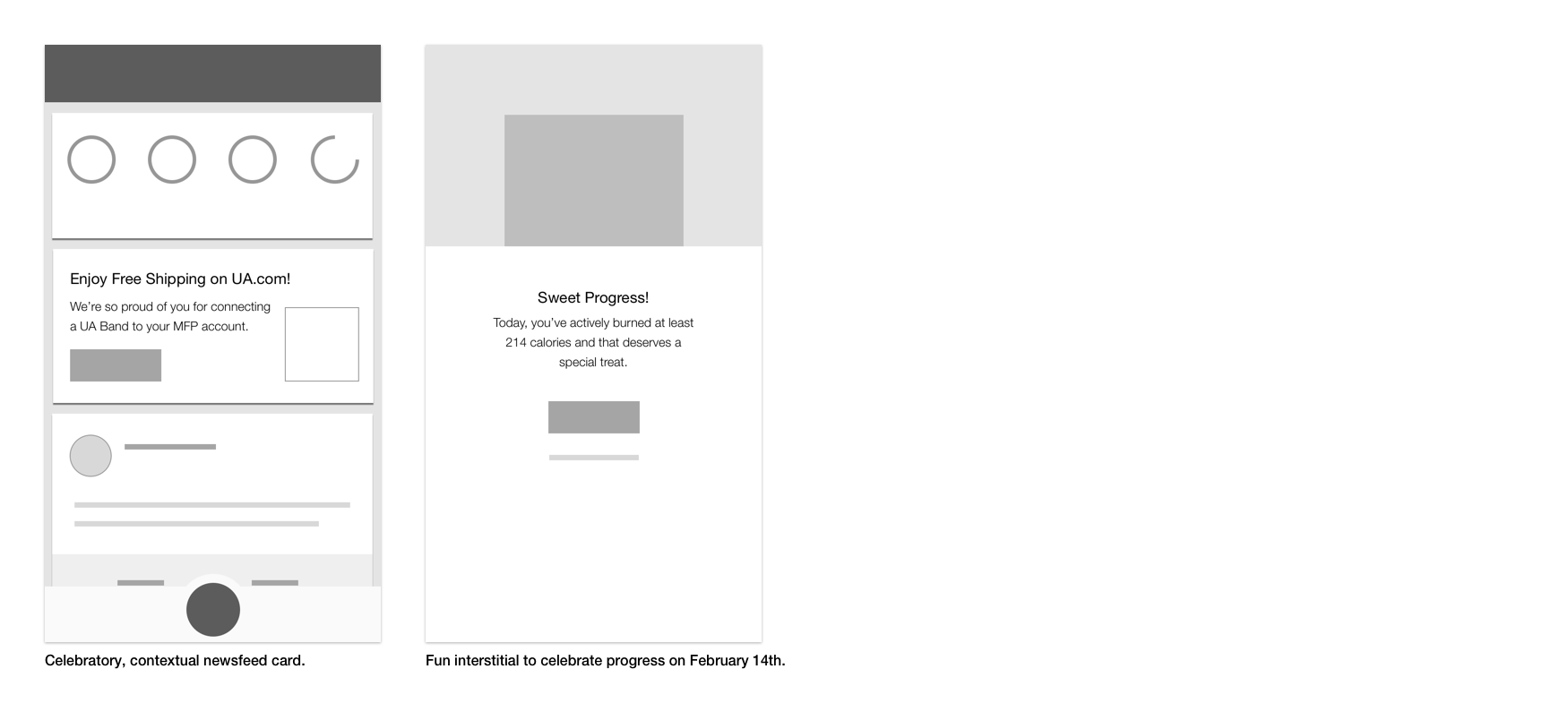 Although this project ended up being de-prioritized on the Product roadmap, the Under Armour Connected Fitness Marketing team ran a quick Triggered Rewards test in June 2016 across 280,000+ MapMyFitness users and 465,000+ MyFitnessPal users to determine viability. The duration of the test lasted for one week and of those emails sent, both samples drove around $400,000 in revenue with MMF having a 0.96% redemption rate and MFP having 0.44% redemption rate.